501c3 Tax Exempt Letter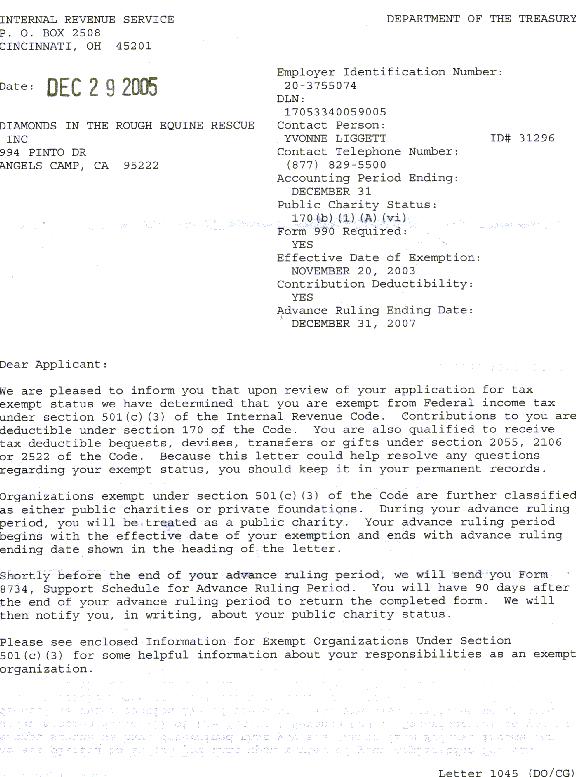 There are many ways that you, small company or large corporation can help the horses. This rescue operates on donations and grants. We receive no state or federal subsidies.
In addition to cash donations we need hay, grain, wormers, vaccines and building materials.

You can click on the link below that fits how you would like to help.

We would never be able to do what we do without you!
---
CASH


If you are able to donate cash in any amount, you may place your donation by going to paypal.com our ID is diamondsintheroughca@yahoo.com, send your donation directly to the rescue at the address below or contact your employer about setting up a payroll deduction and have them send it directly to the rescue at the address below.

mail donation to:
Diamonds In the Rough Equine Rescue, Inc.
10663 Oak Valley Rd.
Angels Camp, CA 95222
---
Sponsoring a Horse
If you prefer, you may wish to sponsor a particular horse. By clicking on the link at the top of the page you can see Sponsorship Info.
---
In-Kind Donations


In-kind donations are any other donation except cash. Building materials, feed, hay, office supplies, items for yard sales, saddles, grooming supplies, computers, copiers, printers.. In other words, anything except cash. Donors who wish to give in-kind donations will receive a receipt with the donor's name and value of the item(s) donated.

In-kind donations may be valued at full market value for tax purposes.

To view what kind of items that the rescue needs at the moment, please click on the link at the top of the page.
---
Volunteering
We need help in many ways. Volunteers are the key to any successful organization such as ours. Without them, we would have to close the doors forever. We need people to feed, clean, groom, exercise and care for the horses of course.

We could use some help doing follow-up visits on the horses that we have placed. We need someone to pass out brochures to feed and tack stores in the area. We need some folks with fundraising experience.

We do ask that if you are interested in becoming involved, whether it be an hour a week, one day a month or whatever, to just be consistent so that we know when you will be here.
For further opportunities on becoming a volunteer,
please contact Ashley Patillo, President
at 209-785-6980 Or send us an email.

Please remember that these horses depend on you, the public, to keep them fed, sheltered and healthy. Without public support, we the staff, could not do what we do for them.