Annie- 18yo Paso Fino. Dark Sorrel 14.2hh. We have ridden her with a shorter backed saddle and a loose ring snaffle. Would be best suited for an advanced horse person. Adoption fee 450.00/ Sponsor for 130.00/mo.
1988 Bay Tobiano Mare. EM has been saddled and ridden in the round pen. She requires an advanced rider because she is so green. She is about 15.0hh and a real nice mare. She is a former PMU mare. Absolutely no breeding. This mare has had over 10 foals while being a PMU and we will not allow her to go through that again. She is registered with the APHA. Adoption fee 450.00/ Sponsor for 130.00/mo
Sunny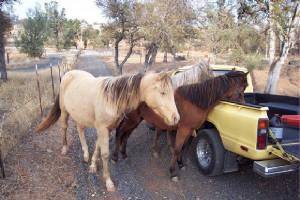 1 1/2 yo Arab/QH Gelding can be hard to catch. Currently in training. Adoption fee $ 250.00 each/ Sponsor for 130.00/mo
Now Available for Adoption:
Melody
20+yo Arabian/ Saddlebred Mare. Diagnosed with Cushings 5 years ago but has not been on any medication. We are having her seen by a vet to determine if medication will help her. Very sweet girl. Loves to be groomed and loved on. She has been ridden by a 5yo girl for the past few weeks and she loves to be out on the trail. Would be great for a light weight rider who doesn't want to ride hard. Melody can be adopted for 300.oo or sponsored for 130.00/mo.